Customer Reviews
"The kind of weeds I use it (Weed Twister) on are many different kinds.? We have clay soil in many places, which makes it difficult to get out roots that are tightly bound in the soil.? So if I tried to pull out the weeds with or without gloves on, only the top of the weed would remove.? With the tool, the whole root comes out. This helps weed abatement rather than having the roots continue to grow larger and stronger and pop out a new top sprout.???
We get crab grass, clumps of fescue grass, thorny ferns (which is nice not to have to touch them to get them out) and dandelions.? Other weeds are not identifiable, but weeds just the same.? I have tried the hula hoe, but it seemed to only get the tops of many weeds.? The weed twister also is convenient because it elevates (sic) having to bend so far or kneel to pull out the weed."
Laura...,
Newbury Park, California
"I've used the Weed Twister for the final two months of the dandelion season here in the Boston area. I suffer from a condition that leaves me with little energy for common activities, so it was such a pleasure to discover the Weed Twister. It only takes one easy twist to remove an entire dandelion plant, so moving over my lawn clearing it of dandelions, plantain, and other low-growing weeds is now more than just a fanciful idea.

I have recommended and bought Weed Twisters for several of my friends, who also enjoy using them."
David...,
Boston, Massachusetts
"... I got it yesterday, and have already de-dandelioned my front yard! :-) That is a really cool invention you have there.?? At the same time you are weeding, you are also aireating (sic).? I was also able to havest (sic) several small tree seedlings, that were coming up in my yard, to replant in pots.

It pulls up a plug of soil with the root, (well it did for me because our soil is clayish and wet these days) so that I could just pop it into a pot."
Nancy...,
Cincinnati, Ohio
"For most of February and early March the rains came beating down.? The garden plants drank heartily and weeds of all kinds drank greedily.? The weeds grew huge with roots 6" long and big around as a green thumb.
But alas!? The weeds were no match for my Weed Twister.

PS A really good product."
Richard...,
Pasadena, California
"I put the Weed Twister to work the day I received it.? I removed some 3 ft. tall weeds that were growing up against my porch - all while standing on my porch! I twisted away and removed about 20 weeds. My only problem now is that I am fresh out of weeds! I guess I'll just have to wait for the 'new crop' to come in!
Also, I am 5'-6" tall, and I am very glad that I bought the 42" Weed Twister. The smaller one would have been too small for me to use comfortably. Yet, 5'-6" would not be considered a "taller person" for a man. So, you might want to be more specific in your height/tool recommendations.
Thanks for a great product that works as described. I hope to avoid using products like Roundup, especially since I completely killed a mature shrub while using Roundup on some weeds near its trunk."

Janet E, ...
New Iberia, Louisiana
"I just bought a Bed and Breakfast in the mountains of Virginia, and never really had any experience in gardening.? My new Inn is covered in flower beds and 9 acres of grass.? We have weeds taking over and I was trying everything and every kind of tool.? When I got my first Twister last week it was amazing just how many dandelions were in our yard.? We filled a 5 gallon bucket up 3 times and still have more.? The twister makes a easy job of it?and is really fun to see how much of the weed we get each time.? I showed it to my Father down in North Carolina and that is why I ordered two more, one for him and one for another friend.?? Thanks for such a great product."
Dan DuRant
Mountain Song Inn
Willis, Virginia
Editor's Note:? Dan's second purchase was also an upgrade from the 36-inch model to two of? the 42-inch models.
"I got the weed twister today and I put it to work immediately. It worked as I hoped it would. I hope this will last for years. It is the only thing I have found to get rid of the tough weeds in my lawn without killing the grass or digging a hole. I will spread the word about your great product. I now have a large garbage can full of crabgrass (I think that's what it is). "
Todd M. Hall
Starkville, Mississippi
"By the way, our new 54-inch Weed Twister is working great for our weed removal business!? Water soaking on some large tumble weeds, even for a few minutes since time is money, has worked for us for more efficient weed removal in desert landscapes and for preventing tool damage."
?
Daniel Hughes
A-Z Weed Warriors
Tucson, Arizona
Ph. (520) 807-9588
?
I recently purchased a Weed Twister and have not had a chance to use it on the really tough weeds in the yard of my AZ house but today I extracted a small palm tree with it in Reseda, CA!? I am a utility pole inspector and there was a baby palm growing at the base of a pole. I used the Twister around the base at several locations to loosen the soil, aimed for a stout branch and twisted the tree right out.
Pic att.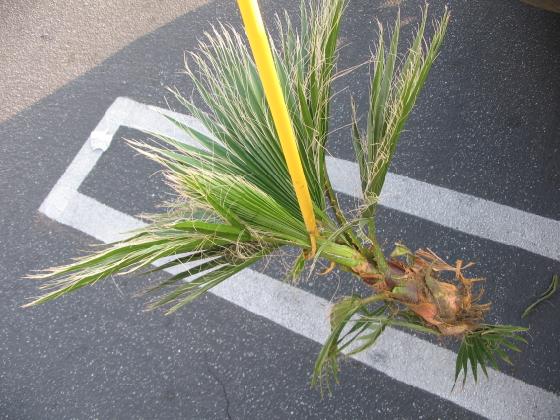 Thanks!! "

Don Huntley
California - Arizona
Editor's note: Don should be recognized as an inventive tool-user who figured out a way to pull out a larger plant than the usual Weed Twister target!? Well done!
I got it (Weed Twister) 2 days ago...I used it yesterday...works great!! Nice concept...wish I would've thought of it!! The design is simple and effective but you should lengthen the claws about an inch or so to get down farther in the soil. I bought the Garden Weasel first...because this isn't available in stores...that was a mistake...the claws started bending out of shape immediately, so I had to bend them back...plus it makes big 5" holes in the lawn and you have to repack the soil after use...not like your product! I bet you've made a bundle on this huh?

Ty Edwards
Calabasas, California

Editor's note: Ty will soon learn that this tool can twist and dig deeper than 12 inches, more than any other tool of this class. See the Deep Hole Test on the Weed Twister Quick Tips page.

The Weed Twister is a fantastic product. I also ordered the handle extension which makes it even easier to use. Friends and family looked at me skeptically when I told them about it, but they have since tried it and now agree with me that it is a great tool.

Peter Beth
De Pere, Wisconsin


After (finally) receiving the small weed twister, I am happy to say thank you for a unique product which I have used frequently. I live geographically in a very gravelly part of Wisconsin due to its glacial origins. The weed twister has proved itself as an indispensable tool for those invasive species that HAVE to be removed before they go to seed. I must admit that it is not a fast process, but I am getting more efficient and find it is worth the extra effort to remove the entire weed, to prevent re growth. I will keep it close by on my hikes and forays, and continue my never ending job of invasive species control with new confidence.

Jef Spalding
Kewaskum, Wisconsin

Wonderful product...I use it to pull up poison ivy without having to touch it.

Sue Roellgen
Vincennes, Indiana

Editor's Note: Sue purchased the 42-inch Weed Twister. The longer handle keeps her at a safer distance from poison ivy.
?